Center in Almaty

The staff of the Center was formed over 10 years ago. It evolved as a separate structure – The "Dao" Treatment and Rehabilitation Center in 2003.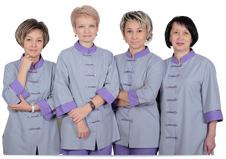 Our team
of experienced professionals
Having a basic European medical education, we were looking for additional methods of health correction. We were attracted by a holistic approach to diagnostics and treatment and a sophisticated understanding of the nature of diseases in Chinese medicine. And the desire to effectively help people and to use more organic and environment oriented methods of treatment united us into one team.
Working with patients and analyzing the obtained results, we felt the need for creation of ready-
made herbal compounds. A large section of the Chinese herbal medicine is dedicated to laws of formulation.
We take clasic formulae as a basic and adapt them, taking into account the way of life which is different from the Chinese one.
Practical kinesiology
method of manual muscle testing which is based on the phenomenon of biological resonance.
Creation of herbal medicine became the result of our long creative research work. With certain pathologies a patient can use them as both the treatment and for the preventive measure.
We examine the pulse and use methods of practical kinesiology in the process of diagnostics. The pulse
diagnostics provides a picture of the internal state, and the practical kinesiology allows to detalize the causes of disease. Those methods united offer an opportunity to choose the most accurate ways and means of medical treatment as possible.